While the other packet of dough is still chilling, we can prepare the berries.
I had picked through the berries to throw out any leaves or stems and washed them. They have been drained and patiently waiting for their turn in the limelight...
to the berries, we are going to add the following: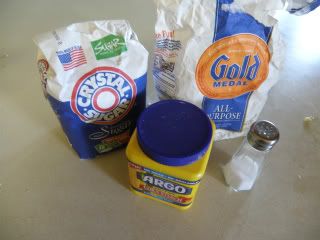 1 cup of sugar, 1/4 cup of flour, 2 Tbsp. of cornstarch and more butter!!! 2 Tbsp. chopped up to sprinkle on the pie filling right before we put the crust on - So hold off on the butter for now and stir in your flour, sugar and corn starch.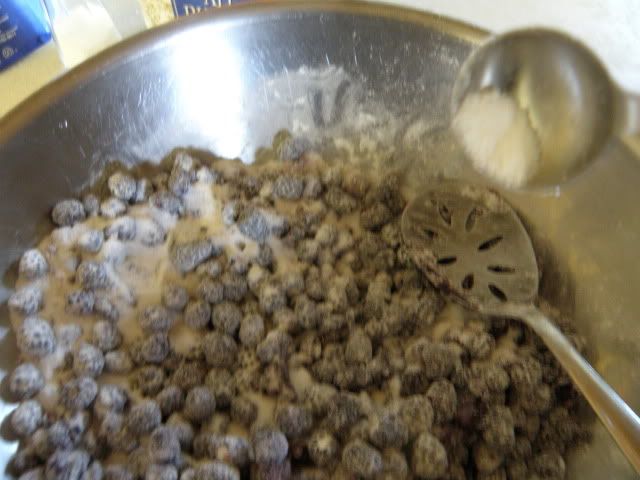 Stir to coat berries and set aside while you roll out your top crust. The berries will ooze juice and meld with the dry ingredients and get all lovely and syrupy..... let them!
Grab your second packet of dough and roll out your top crust just like we did the bottom crust.
Put berries in the bottom crust.
Now is the time to add that butter we mentioned a minute ago!
Now top this! With your top crust that is....
Be sure to pinch the edges of your two crusts together as you don't want all that good berry juice getting out.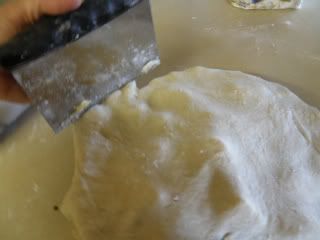 Don't forget to cut some holes in your top crust with a sharp knife so the steam can vent. They can be simple slits if you want...I was feeling all artistic and "in the moment" so I made mine into leaves....(in case you cant tell those are leaves....)
bake for 45 minutes @450
Then you get this
I baked the little "leaf" pieces that I cut out for my vents. I have seen people put them back where they were cut out but I wanted to be different so I piled them up in the middle...a pile of leaves! I like it!
so here, have a piece, fresh from the oven, redolent smells of butter and sugar and warm berries...
My observations on this recipe
...
The butter is very flavorful but requires that you work fast and keep it chilled. It made the crimped edges a little droopy the minute it hit the hot oven which I didn't really like.
But great for flavor and very flaky! This is a nice recipe if you want a very rich and flaky crust. I still want to try a few other variations of pie crusts in my search for the ultimate one.
Next I will try the lard or solid shortening in my onward and upward quest for the perfect crust!
Stay tuned!