Here, have some!
Next time I will put it on a plate where you can actually see it...
Because the munchkins moms read here,
and
because I am aware that our menu so far consists mainly of butter and sugar I would like to add a disclaimer....
along with our butter and sugar we also had scrambled eggs and bacon and fruit. Just so we don't seem
too
decadent eating blackberry cobbler and ice cream in the morning.....
jus sayin...
After breakfast was inhaled in an impatient rush, the littlest princess took her turn at the wheel of the "bat mobile" (golf cart) to go look for more berries....
as you can see, she is still in her pink princess PJ's. One of the side benefits of living in the middle of nowhere.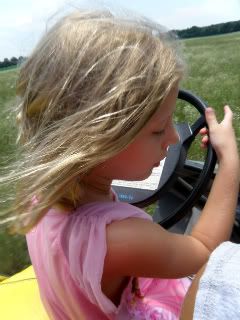 The Littlest Princess and "Agent B" ponder their options on which way to go first in their search for the biggest blackest berries....
meanwhile "agent B" cant resist the old "shoulder tap ha -ha made you look"....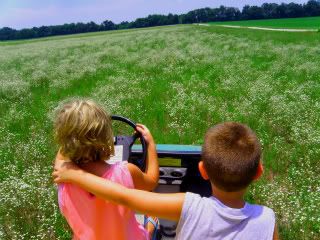 "Agent B" is so clever he is.......
Now head out into the blazing sun and get yourselves some scratched up legs and some berries and make yourself a cobbler. The results will be melt- in-your-mouth worth it!