Hi, I am a little chicken to say this but I live a hard life.
People are always intruding on my privacy and expecting me to create constantly. As an artist I cannot tell you how hard that is. Some days I dont want to "create" something new for the consumer.
Some days I might just want to get my nails done or get a tan or contemplate the profoundness of existentialism instead of pooping edible works of art out my butt, know what I mean?
I am not the only "working" girl who feels that way. I am one of 8 and I guess I am speaking for us all...oh, and there's "himself" who is such a cockle doodle doo kind of guy. Basically though, he is pretty harmless - emphasis on the "pretty", I mean Brad Pitt move over - this guy that hangs with us girls is gorgeous! He's nice too, always giving us the best presents and watching out for us. He has fringe benefits though, lets just leave it at that.
It occurred to me the other day while I was contemplating the futility of life and pondering the infinitesimal decimal, that others might want a peek at my life, just a typical day in this life of mine....
Wait........."typical day in my life" sounds boring!
I'm going to give this a catchy title. How about "Day Spa" I hear that the odd looking two legged chicks like that...
well, they've got nothin on us. We are the ultimate chicks and we know it. After all - you all named yourselves after us not the other way around.
So here is a glimpse of my spectacular self, my fellow chicas and our wonderful life......
First up, here is moi!My name is Ginger Spice mostly because of my flaming red hair.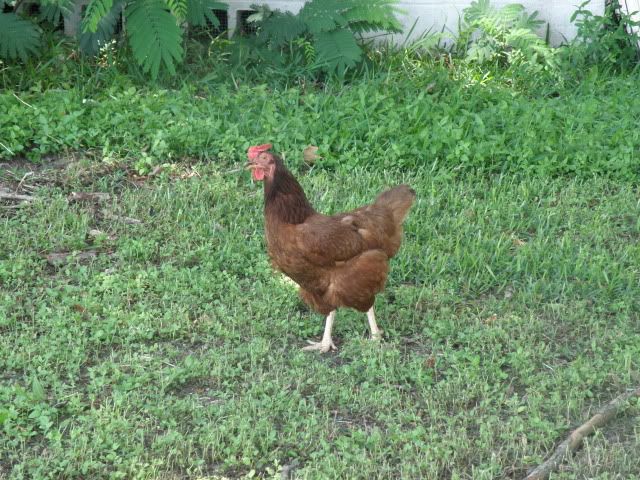 Next there's Baby and Sporty Spice, they are always together.
Here's Roo our main (well only) man, with Posh....thats Scary in the background only she is more scared than scary, but that's another story.
In addition to us Spice Girls, we also have a chick named Martha Stewart, another named Mickey D ( a girl in spite of the name...she's the one with the good legs) and last but not least is Turkey Lurkey. She spends most of her time sucking up to the two legged human chick that hangs around us a lot. You will see the three non spice chicks at some point. You will recognize them immediately because as you can clearly see, we all look so very different.
So here is how we begin our day....
to be continued...