By now it is lunch time and the menu reads "
cracked corn over field greens
" some places would just say cracked corn on the grass - but not this place - that's why its a spa!
Thank goodness they pick up the pace a bit when it comes to dinner! Today we are having grilled Ribs with fresh peaches. Now that's more like it baby!
Protein!
It does a body good! We had blueberry's too but they were gone in a blink, sorry, maybe next time.
The day is drawing to a close when you have worked and stretched and clucked as much as we have - not to mention all the art we produced and get practically nothing for....
so on to bed....
I would like to say that we sleep soundly on down filled mattresses but that whole idea of down makes us a little uneasy to think about, I guess you could say it is a downer....(cackle cackle) so let me just say we sleep on nice fresh hay. I hear you two legged types like the smell and feel of fresh sheets dried on a clothesline in the open air. Well, we have that same crisp grassy smell going on here and it is very relaxing. We are all free to settle in upstairs or down.
Roo sleeps downstairs by the door like a good guard should and of course some of the chicks have to stay right there too. Always trying to impress they are.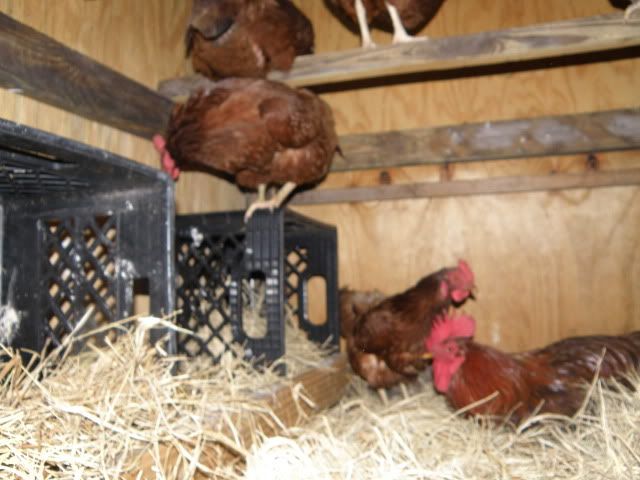 Us smart chicks take the upper quarters
and roost and dream about dog food leftovers and other goodies, who knows maybe even free range crickets! Time for me to wrap this up as I hear two legged chick coming......
she wants to show you her pictures too. Get ready for boring that's all I can say....its like:
"here is the house for my chickens and here is how the door opens and oh look, here is an egg
!" Her writing style is so boring its enough to make my gizzard groan within me, but oh well.....what do I care, I am off to hit the hay.
Night all~