This is a super easy recipe that gives great results!
First, you need one of these...
For this recipe I like to skin the chicken so the spices stick better. Lets face it....chicken skin in the crockpot isnt going to crisp anyhow. That would take the oven and its TOO hot for the oven.
To skin the chicken just peel the skin back like taking a coat off.. There is a ridge on the breast that wants to cling so use a knife right here
I dont bother to skin the wings - it's too difficult and time consuming.
Empty the bits out of the cavity and wash the skinned chicken. Stuff the empty cavity with whatever you like. I used celery and lemon and garlic.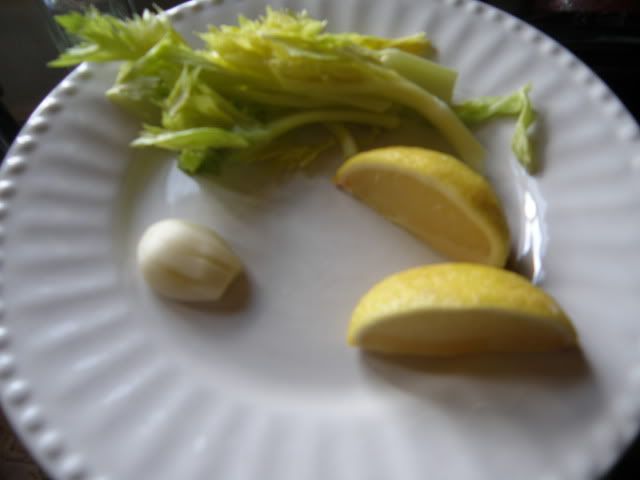 I put two sticks of celery in the crockpot to "sit" the chicken on so the bottom of the chicken doesnt get soggy and "stewed" in the long hours it will be in the crockpot. Cut your celery to fit your pot so it can lie flat. You want to use the outer ribs of celery because they are more substantial and can take the heat and retain their shape.
lay them outer side up in your crockpot...
next comes the yummy part! Make a rub for the chicken. It can be any spices you like.
Heres mine
Spice Rub:
1 tsp. each: pepper, onion salt, sage
2 tsp paprika
3 tsp regular salt (not shown in picture)
(
I used the onion salt since I didnt have any raw onion to stuff in the cavity,otherwise I would use 4 tsp of regular salt.)
swirl the spices together...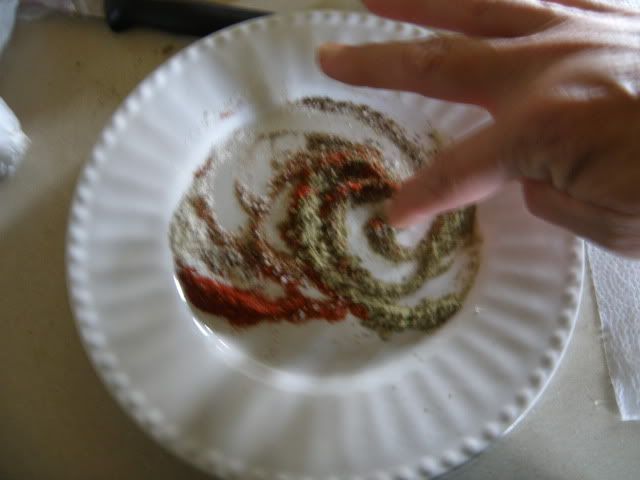 sprinkle on chicken (dont forget the drumsticks and wings)
cook on high for 5 or 6 hours (or low for longer if you want) and you will get this. Notice the steam coming off the chicken? Im glad I caught that!
Serve over rice (I add two chicken boullion cubes to my rice while it cooks but its not necessary. If you decide to add boullion - skip the salt)
Pour drippings from pan into a cup and place in fridge for 1/2 hour or more. Skim off the top and place the rest in a saucepan. You will end up with about a cup to put in your sauce pan. Cook over medium high until it reduces to 1/2 cup. Add 2 TBSP of white wine and serve over the sticky chicken and the rice.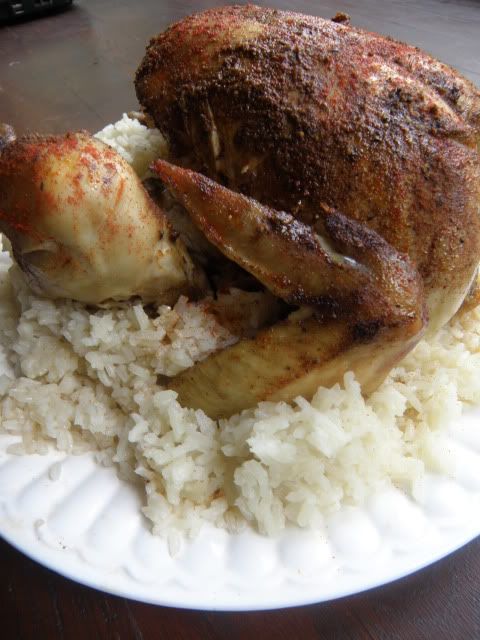 I'm adding a cold salad of cucumbers, tomatoes and onion mixed in a vinegar dressing and thats dinner!
I approximated the cost of this dinner (veggies from the garden - so didnt count them) to total about $8.00. If I had a big family to cook for I would have cooked some dried beans while the chicken was crockpotting and added biscuits or cornbread.
As kid, I remember there was never more than one chicken...no matter how many kids around the table. We just had more side dishes! I still like that way of thinking.