I am a photographing freak these days!
It all started when a friend sent me a present in the mail.....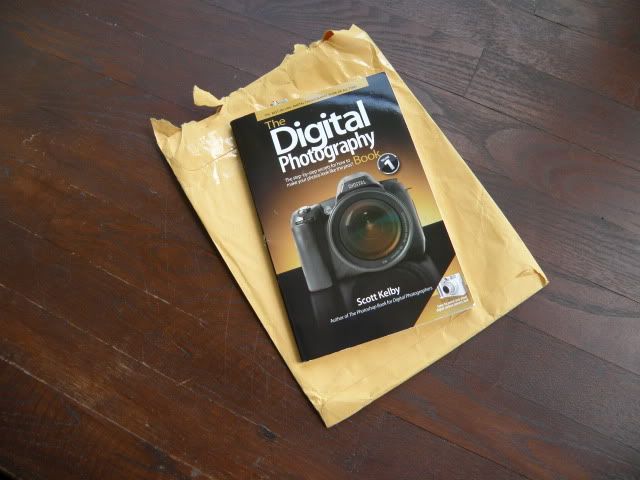 A BOOK ON PHOTOGRAPHY!!!
Now maybe she sent it to protect herself from getting queasy while looking at my blurry pictures......but I personally think she sent it because she is just a sweetheart! I mean, my pictures are not that blurry, right? RIGHT??? [chirp......chirp]
Since I got the book I am either
A) nose buried in the book
or
B) out practicing what I am learning in the book on some unsuspecting child or animal or fence post or in the case of yesterday.....some perfectly innocent grapes!
I had a luncheon to go to and I was supposed to be cooking for it.
Instead I was delving into how to make seamless backgrounds (pg 121)
and using direct indoor lighting (page 124)
I should have taken a picture of my kitchen but I didn't think to do that!
I had paper towels draped over my wine rack and taped to my upper cabinets. Between all that draping and all those lush grapes I felt like Cleopatra in her boudoir!
But it was really just me, Indie, photo freak extraordinaire in her kitchen with ninety seven hundred loose grapes all rollin around....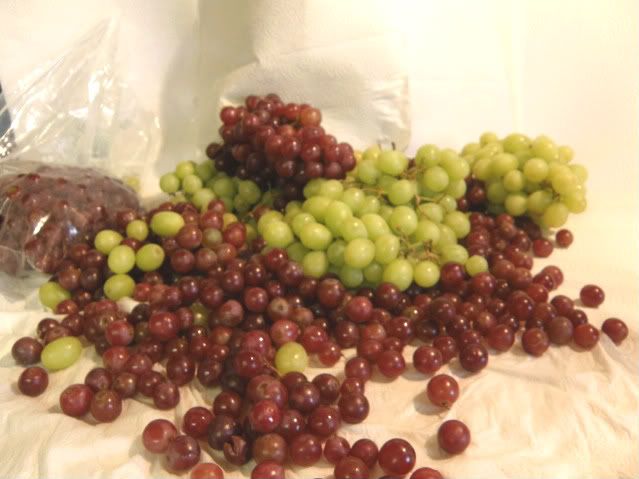 Why, you can hardly tell those are paper towels at ALL!
Next I shot my "ingredients" for the recipe...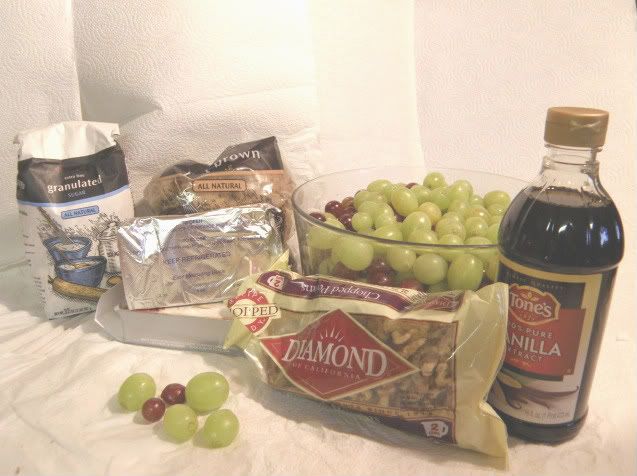 oops! Forgot the sour cream...I would be better off forgetting the grapes than the sour cream, am I right?
I politely asked the cream cheese, vanilla extract and sour cream to hop into a bowl with 1/3 cup of sugar, which they did...
I love it when food does as I ask! So I blended that all up well together. When I read that I was supposed to add 10 cups of grapes to that little bit of mixture in my bowl I thought that had to be wrong...it didnt look like enough! Or too many grapes maybe....
Turns out it is just the right amount for a creamy balance...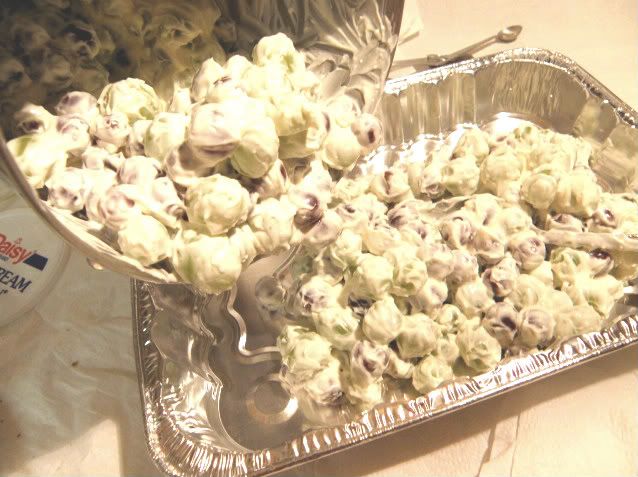 next I topped it with a light sprinkling of brown sugar
and toasted, chopped pecans...
It turns out looking like this but then.....you pop it in the fridge over night so the cream can interact with the brown sugar, creating a caramelizing effect.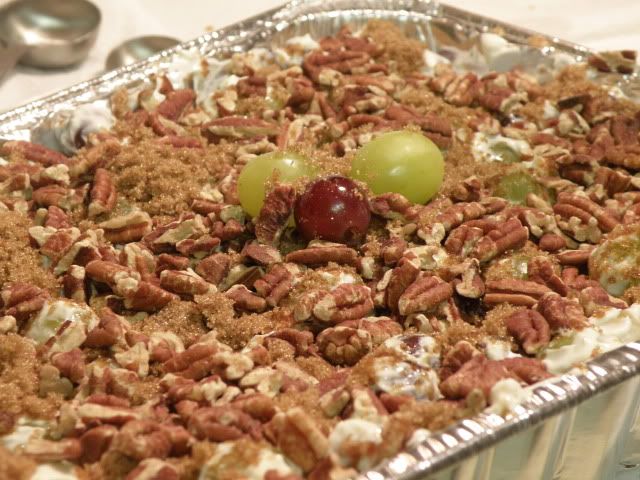 Over coffee the next morning before the luncheon, I read in my new photography book about outdoor photography.... (page 126) and of course I had to try it!
Wonderful taste...very light and cold and creamy and the grapes hold up really well. The toasted pecans add just the right crunch and the caramelizing concept worked!
Recipe
8 ounces Cream Cheese (Softened)
8 ounces Sour Cream
1 teaspoon Vanilla Extract
⅓ cups Granulated Sugar
10 cups Red And/or Green Grapes
½ cups Packed Brown Sugar
½ cups Finely Chopped Nuts (if Desired)
Preparation Instructions
Mix cream cheese, sour cream, granulated sugar and vanilla well with an electric mixer in a large bowl. Fold in grapes into this mixture. Put into a 9×13 dish. Mix brown sugar and nuts together and sprinkle over grape mixture. Chill.