Butternut squash are ready in the garden....the horses didn't get them when they had their garden party!
These are simple and beautiful food full of antioxidants and other goodies.
I forgot to take a picture of my steps but I remembered in time to take a quick pic of the ingredients. There are only four besides the squash. Brown sugar butter, cinnamon and a sprinkle of salt.
First, slice the squash in half lengthwise. Scrap out the pulp and seeds found in the bottom part with a spoon. I have mine on the plate here in the picture - its a lot as you can see! You can roast these just like pumpkin seeds. Just rinse the seeds free of squash, dry them and coat with a little olive oil by tossing in a bowl and spreading on a cookie sheet in a warm (275) oven. After about 12 minutes you will hear them starting to pop. Take them out and lightly salt for a nutritious snack.
But back to the squash...lightly sprinkle salt over the two halves. Follow that with a sprinkle of brown sugar and cinnamon. Add a pat of butter to each and bake for a little over an hour at 350.
Easy!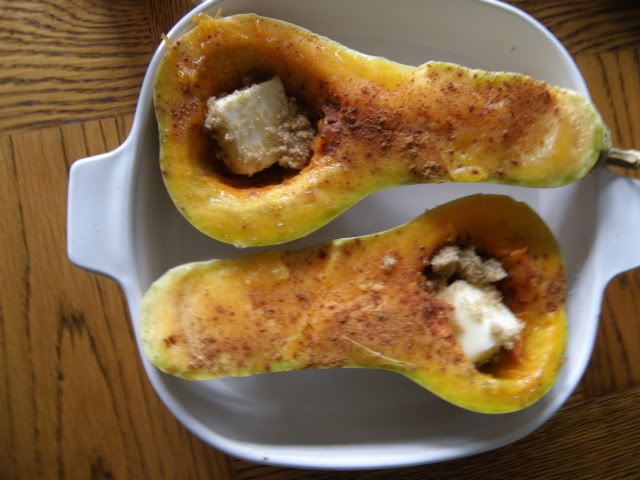 When it is done the butter and sugar will have caramelized a bit and the little bit of butter left inside the deep part can be drizzled over the narrow part. You can do this while baking but I just do it when I take it out.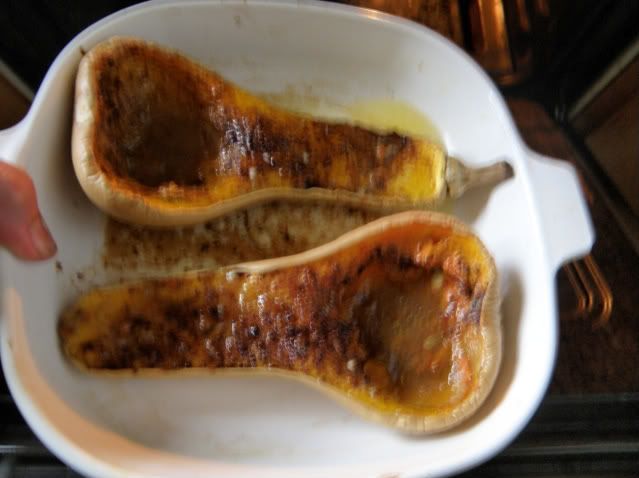 A perfect side dish with any meal!