One of my oldest friends,
oops! she wouldn't like that- I'd better rephrase...
one of my bestest, most long standing friends from when we were both teens,
that's much better!
came to town to help celebrate an award that another friend of ours was receiving on Friday at a banquet.
The banquet was awesome, a beautiful restored historic building, great music, wonderful food and a lot of interesting people.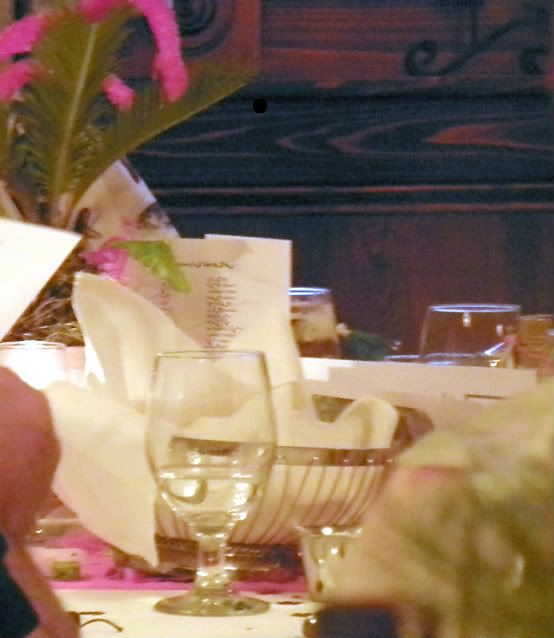 The dessert was a molten lava dark chocolate confection with a crispy chocolate crust.




The "after party" Martinis where I entertained myself with trying to catch the "glow" in the martini glass using a small table candle as back lighting.





Did you know that warm pomegranate martini s are not tasty?

All in all (warm martinis aside) it was a richly elegant evening and a wonderful experience.


The next morning was more my speed however. The local 50's diner. Clinking of heavy china, the heady aroma of brewing coffee, a grill turning out such delicacies as bacon, hasbrowns, and don't forget, pancakes.
And grits!
And raisin toast!
Even the air in this place is practically edible.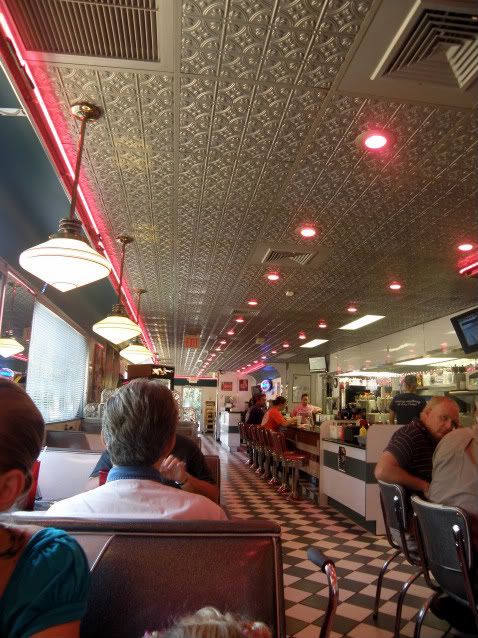 It is one of those breakfast anytime of day places where you can stay as long as you want - and we did. 3 hours actually! After the late night that had come before, it was fun to sit, relax and talk about anything and everything from college bound kids to those among us who are college bound ourselves!

Since my friend doesn't visit often and since she has a lot of roots in this community and is in pretty hot demand when she does visit...I was very glad we got to squeeze in one last bit of time together on Sunday, the following morning.

We met at what my son calls the "Hippie Cafe" but really it is a delightfully "artsy" cafe (there are several artists involved in the business actually) with an emphasis on wholesome and delicious foods.
Things like steel cut oats cooked long and slow the old fashioned way. Every fresh seasonal fruit imaginable and oh yes!
A waffle station where you get your waffle to order. On this day it happened to be ginger bread waffles served with bananas, walnuts and a dollop of heavy cream.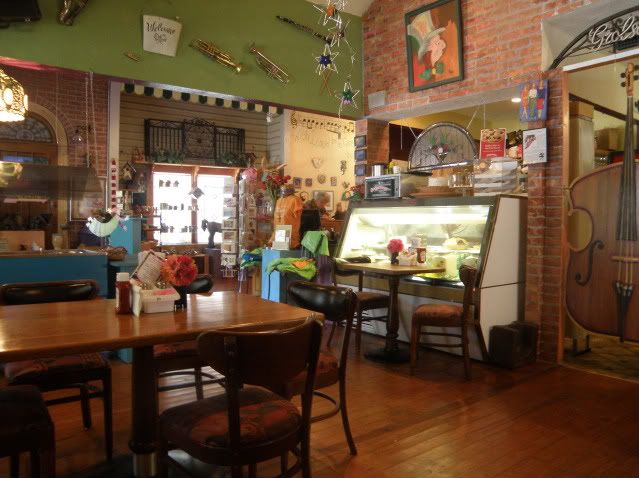 Although they are wonderful for a lazy Sunday brunch, they are especially known for their to-die-for from scratch dessert pies cakes and breads, some of which you can see in the dessert case in the picture above.
Maybe it is because of that, this place always smells like frosting.
Cakes baking,
warm sugar and vanilla.
That is the appeal of this place...

oh!

and all the art work -which is everywhere- is original and for sale.


Feast for the eyes, feast for the soul.
I don't know when I will see my friend again. We both seem to be getting busier rather than slowing down. I do know that when we do finally get together, it will be like it always is...an instant reconnection and the easy familiarity that is the identifying mark of true friendships.
"I do not wish to treat friendships daintily, but with the roughest courage. When they are real, they are not glass threads or frost-work, but the solidest thing we know."
- Ralph Waldo Emerson