My chickens have been on a bit of an egg laying hiatus over the winter and early spring. Did it have to do with the sudden disappearance of half the "sisterhood" last fall?
I don't know.
But I have cut them some slack now that I am down to the FAB FOUR plus one very happy Rooster. Finding an egg or two or even just the occasional egg was ok, I was happy with that.
In my determined attempt to make room for natures way of doing things and allow them to free range, I have learned that life does not follow a straight line.
Instead, nature likes to confound and delight us with periods of deprivation followed by a glut of unannounced abundance.
Ah yes, mother nature is a tricky little thing and the biggest lesson to learn from her is to take NOTHING for granted.
We can take electricity for granted,
we can take cell phone reception for granted,
heck, we can take life and death for granted,
but whatever you do...
Do NOT take a chicken for granted!
For if you do,
you will feel really dumb later because chickens do the totally unexpected thing.
Always.
For instance,
after laying very few eggs at all - we started getting a LOT of rain. Bugs were forced to the surface rather than drown underground this meant my chickies got to feast.
and what
that
meant was...
instead of the occasional egg here and there, they got serious!
Each morning when I would opened the hen house I would find 4 eggs.
One from each hen (even Turkey Lurkey who has
always
felt that egg laying was beneath her exotic self!) in 9 short days I had(yes count em) 3 dozen eggs! Gulp.
I washed the eggs and tucked them away in my fridge only to watch each successive day bring with it a profusion of more eggs.
Eggs! Eggs! Eggs!
I finally just boiled a dozen of them to make deviled eggs because I know that deviled eggs in my world are like milk bones in a dog world. There can never be too many! The guys will just scarf them down at will.
After I boiled the eggs I stuck them on the counter over the sink and admired how pretty they all looked.
Pictures of minutiae are always fascinating, right?
Trying to make my faucet handle add more dimension and failing in my objective...
Lets try this again...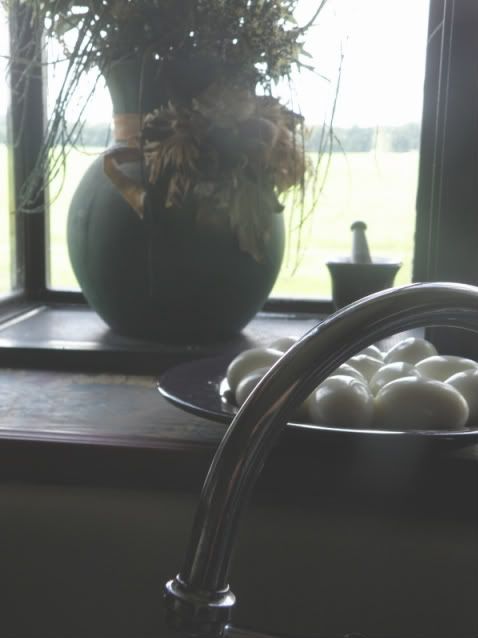 A little better - at
least
you can tell it is a faucet!
On to the good stuff...
Everybody makes deviled eggs pretty much the same way I guess. Here's my list of players: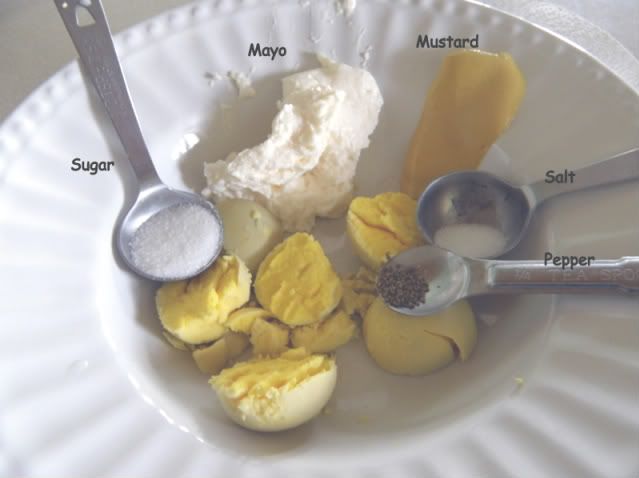 I have one secret ingredient
Not the peppers, just the juice! It adds a touch of "zing" to the eggs. I use about 1 tsp. but use more or less to suit yourself. It wont change the consistency enough to make a difference - just makes them taste really good!
You can sprinkle them with paprika for the "pretty" if you want.
I heart eggs~