You know how one day you can look at your garden and say I really need to harvest that basil soon and then the next day you say that again and before you know it a week has gone by and basil is threatening to take over the planet?
Ok, maybe not the planet, but definitely your deck and most certainly the container that it is growing in?
Yesterday was that day. I had grandiose plans to dry the basil. I even had some wonderful little spice jars to put the dried basil in, thinking of what great gifts that would make this winter.
Only thing is, it is not winter...it is summer and the hay must feel it is in serious competition with the basil because it is growing equally as fast - or faster if that's possible.
They hay can not,
will not,
wait. That means the hay wins - the basil loses...
its head that is...
yes,
I grabbed the scissors and lopped off the tops of the basil and in 15 minutes had turned it into pesto!
Pesto is easy and fast. I love to make things that sound exotic and hint of faraway places and actually take less than a half hour of my time!
There are very few ingredients in pesto:
Basil, olive oil, Parmesan, pine nuts, garlic, lemon~
NOTE* It is better to use grated fresh Parmesan if you have it, which I didn't, the canned works in a pinch.
Wash the basil and take most of the stems off, just using the leaves.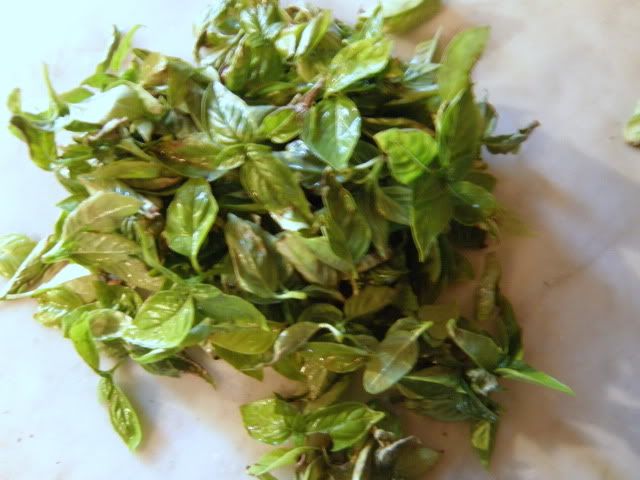 For every 2 cups fresh basil leaves, packed down you will add:

1/2 cup freshly grated Parmesan-Reggiano or Romano cheese (or canned will work)
1/2 cup extra virgin olive oil
1/3 cup pine nuts (or walnuts will work)
3 medium sized garlic cloves, minced
1 TBS. fresh lemon juice

Combine the basil with the pine nuts, pulse a few times in a food processor or a blender. (If you are using walnuts instead of pine nuts and they are not already chopped, pulse them a few times first, before adding the basil.) Add the garlic, pulse a few times more.

Slowly add the olive oil in a constant stream while the food processor is on. Stop to scrape down the sides of the food processor with a rubber spatula. Add the grated cheese and pulse again until blended. Add lemon and taste. Adjust ingredients by adding a touch more olive oil, lemon or salt if you dont thing the cheese has added enough salt.

It doesn't work well to leave it for long periods of time in the fridge so I freeze mine (an ice cube tray works great but I don't have one so I made dollops of pesto and froze them and put them in a Ziploc bag in the freezer. If you freeze the "dollops separately - they wont stick together in the same bag.


Interestingly ugly isnt it?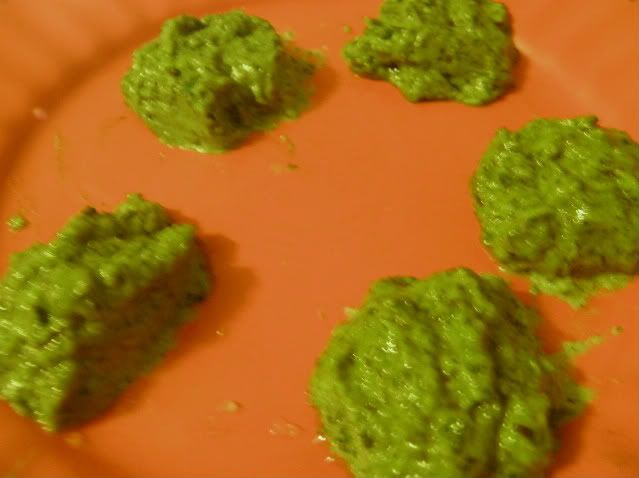 Ahh..but when you throw it in hot pasta it is beautiful indeed!~