We have been enjoying the kind of rainy days here that make the ground burst with life. The peanuts are growing by leaps and bounds. The hay fields are lush and thick. Now all we needed was a 3 day window of bright sun to dry and bale all that grass!
If I had ever thought about hay before I moved to a farm (which I didn't) I would have just assumed that one fine day when there was nothing else pressing, a person would just get out a tractor and start making hay!
I mean hey! (yes I mean hey - about the hay..)How hard could it be?
I have learned that like most things that appear easy and simplistic there is a lot of strategy and steps of preparation that lie behind all the "easiness".
First the hay is cut. This isn't cutting like a lawn mower cuts. There is a special cutter that fans the hay out as it cuts it. It looks somewhat like a palm frond when it is cut. This exposes as much surface area as possible to the sun. The goal being to have nice dry hay with a low moisture content.
Now that it has dried for a day in nice even rows its time to mess it all up!
The machine you see in the distance is a "fluffer" attached to a tractor. Its long metal "fingers" fluff the hay up in the air and drop it back down again so that the underside gets sunlight too.
Now it has to dry in the sun another day.
Meanwhile everyone watches the sky and the weather and hopes for the best.
On the third day the hay is dry enough to bale.
First, it has to be raked back into rows after all that flipping the fluffer did they day before.
The rake gathers the hay into long narrow rows called wind rows, then the baler drives over them and eagerly devours all the hay.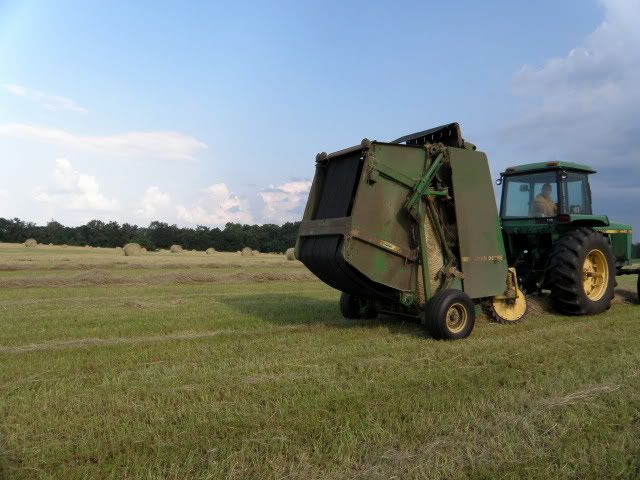 When the baler stops you hear a high pitched spinning sound, somewhat like if you put your car in neutral and gunned the gas pedal - that sound.
Wait! Look! What is that I see peeking out of the baler?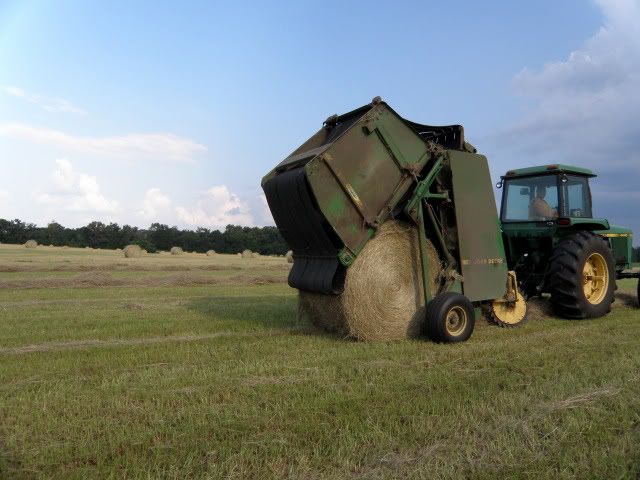 Its a brand spanking new hay bale!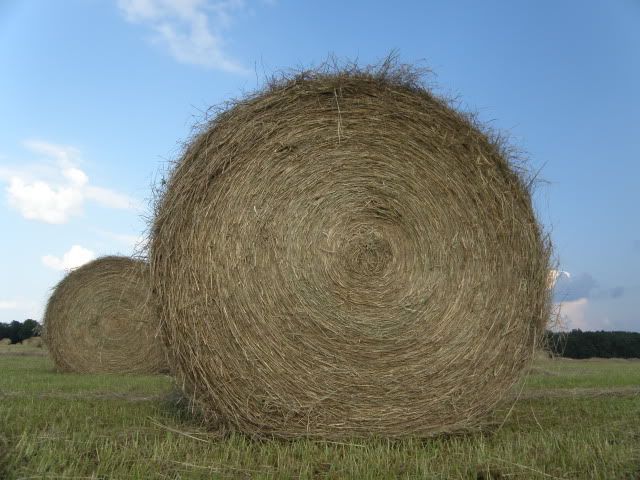 Welcome to the world brand new bale! Now go and join your 820 brothers and sisters!
So there you have it. Three days and lots of sunshine later.
From this
to this
P.S. It rained two hours later...after the last bale was finished.