So, I should have had my camera with me yesterday for the great adventure but I didn't.....and even though I had missed the taking pictures of the birth, I still wanted a good picture of the baby to complete "the story".
By the next day the kids had gone home but they really wanted to see the calf again, to know that he was really ok and happily running around the pasture with his mama.
I went back the next afternoon to the cow pasture where the mamas and babies are, to get pics of this biggest baby evah...
but I couldn't find him.
I thought I saw what
might
have been him cavorting over the edge of a rise off in the distance. It was a big calf and it was white. He had been white when he was born hadn't he?
Was that him I was seeing off in the distance? It was raining and that made everything look a little blurry and to be honest, the last and
only
time I had seen him was at his birth when he was just a big bundle of white fur heavily coated with slime -
not exactly the way he would look now at 24 hours later I was sure.
The best way to find him was to look for his mama, #177.
If I could find her, he wouldn't be far away and I could hop out in the rain, take his pic and post this story and that would be that.
All I had to do was cross the puddle at the gate that leads in to the pasture. Never mind that this was at the back end of the pasture and no one drives there - that its just for the cows.
Never mind that it had been raining heavily all day.
Who focuses on those kind of details?
Ever notice how long you have to contemplate the error of your rash choices when you are stuck in the middle of nowhere?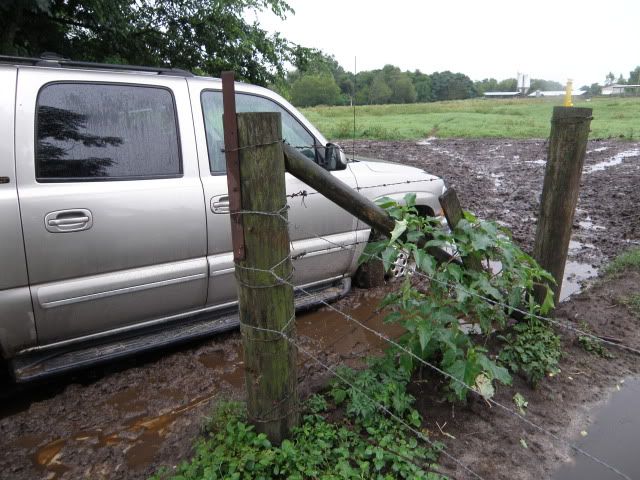 I wasn't entirely sure I was really stuck at this point so I got out and broke off some branches and tried to rock my way backwards out of the mud.
That was how I got stuck even deeper!
Oh yeah, I was stuck good.
Of course all the cows did was laugh at me.
And lick my car....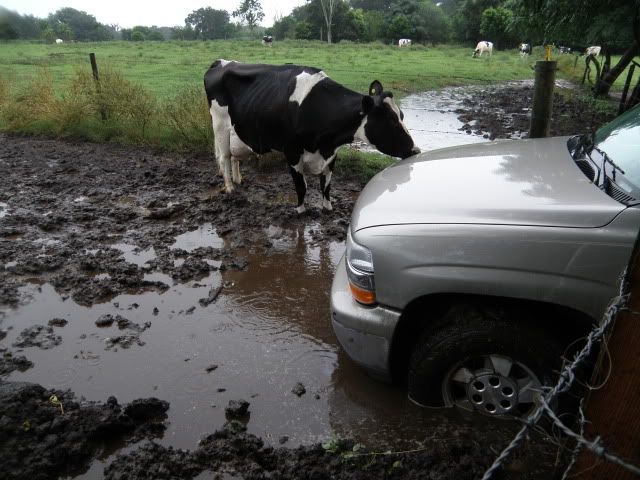 I tried calling for help - no one would pick up their phones.
I tried beeping the horn but that didn't help either.
In desperation I turned to my faithful sidekick,
"Emme - go tell them Timmy's in the well!"
I got nothin....
except more snickering and laughing at me behind my back....
I "
herd
" that!!!!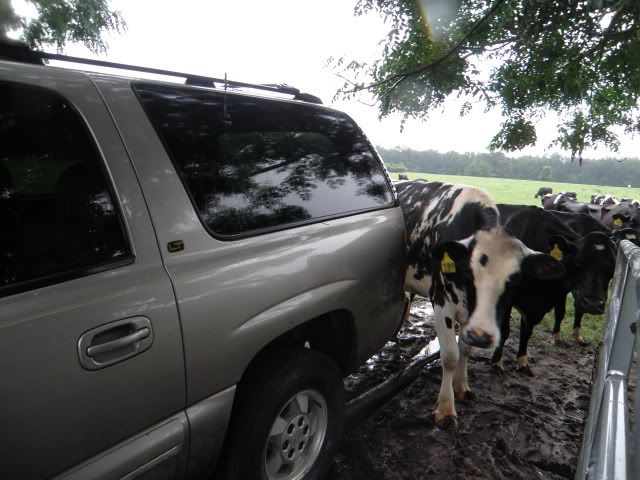 Finally, I heard the distant rumble of something besides thunder.
Was that a tractor?
Was I going to be rescued?
I was!
Oh thank you that you have come!
I am so glad that I gave birth to you 24 years ago.
And taught you to drive a tractor.
And thank you for finally answering your cell phone!
It is too bad that I didnt teach you not to laugh at your mother in her hour of need - but all parents have some regrets.
After being laughed at by the cows, whats one more?
Im unstuck!
Im free!
I can go home to warm dry clothes and forget this ever happened!
Calf? What calf?
I think it was all just a story and the super biggest calf ever born is just a figment of the imagination.
Thats what I think...