Our farm lost its fearless mascot this week.
As far as we can tell his bigger than life heart must have just given out as he walked up the dirt road from the barn to the house. Handsome Son had just come up from the barn and remembered something he needed and turned around. He found Blue laying in the road already gone. Very fast. No pain.
He has left a very big hole in the fabric around here.
Here are a few things that we loved and will miss about Blue:
He looked like a big horse when he walked across the hayfield. Sometimes I would see him ambling his way up from the barn to the house and think a cow had gotten lose but no it was just big ole Blue...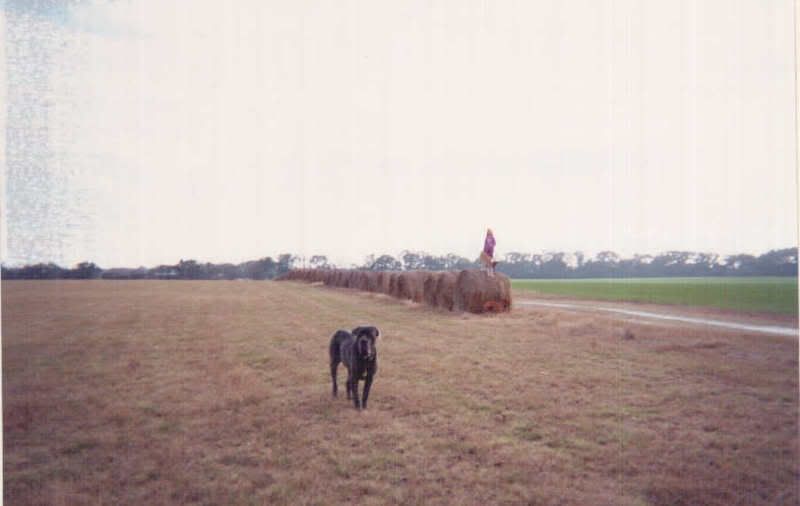 Blue loved to lay on the picnic table, yes he did.
and play with "his" basketball
Guard dog on duty
Blue in love...
other things Blue "loved"
hitching rides right to his guard post at the front door
sleeping on the cool wood floor during the day
and his lambswool bed at night
But the BIGGEST love of Blues life was....
the cattle trailer!
He loved all the mysterious odors clinging to it, the clanging creak of metal against metal. He loved it with cows in it or out of it. He loved it best when HE got to ride in it. It was the closest his "jowls" ever came to smiling.
We buried him at the foot of Blackberry Hill. The most beautiful spot on the farm and the inspiration for naming this blog.
There he rests under a tree with a view of the whole farm spreading out in every direction.
He would have liked that.