Aprils long dry cool days have continued into May only minus the cool part!
With the hot dry wind and no real rain in over a month, the lush pasture for my grass fed beef steers is all gone.
What to do?
I cant just feed them grain. That undoes the whole premise of grass fed. I cant let them survive on just hay. They could survive but they wouldn't grow and that is the whole point.
The next best thing seems to be to allow them out to free range on the hay field.
The same hay field that was beautiful with flowers last year.
see here
http://writingsfromblackberryhill.blogspot.com/2009/07/field-of-flowers.html
After it got mowed down, it got plowed under and after lying dormant for the winter has burst out in all its spring glory as green as a golf course.
The problem (and trust me - there will be a problem sooner or later) is going to be
keeping the young steers out of the rye field to the East, which is about ready for harvest and off the road to the West and I don't even wanna think about what happens if they head South and get mixed in with the dairy cows!
Ok, one thing at a time. My trusty assistant goes and gets the poor hapless steers who have no concept of what they are supposed to do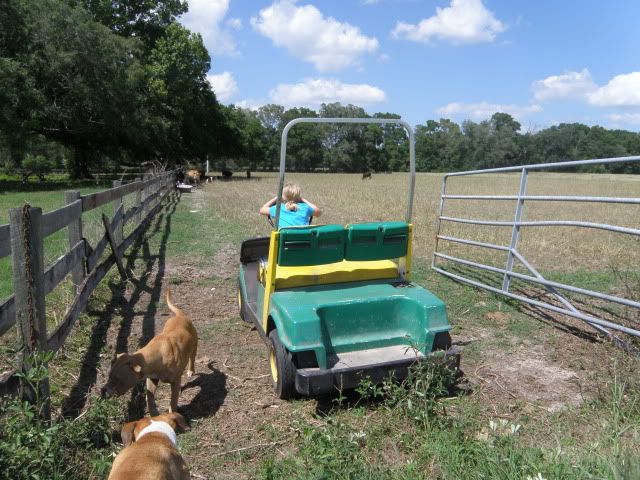 They like the idea though!
And settle right down to business...salad and a martini for everyone! Hooray!
After about three minutes....
"Are they done yet? Its hot!"
"What do you mean hot? Its only 92!" I say enthusiastically.
She does NOT seem impressed...
Seems I remember something in her union contract about lemonade....
"Watch the cows...I am going for lemonade and cookies, ok?
She still is just not catching my enthusiasm...I'd better hurry...
Fast forward two minutesand I return to see...
she has left her mechanized "ride" and is on foot with a staff no less!
That's my little sheperdess!
p.s. yes, I realize there are no sheep here, but doesnt sheperdess just sound nice?