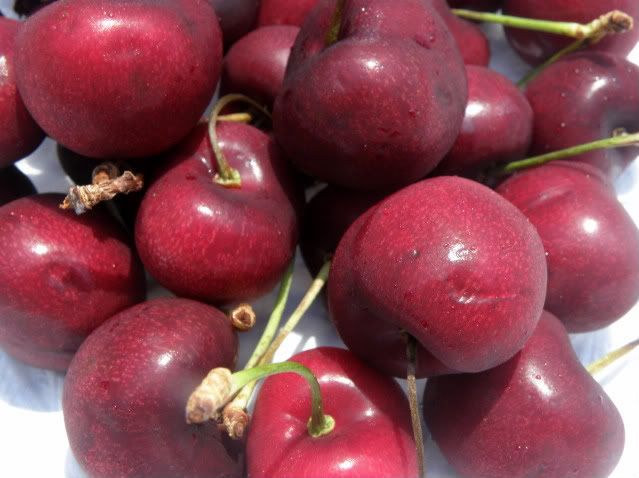 The last of the summer cherries...
Ever made Clafoutis?
Thats French for pancake batter!
Seriously!
You end up with a delicious dessert that is custardy if you serve it warm and more crepe-like if you let it cool. The beauty of it is you need to only have 3 cups of cherries (or any other summer fruit, really) and the basics: milk, eggs,a bit of flour to make this.
Clafoutis
1 tablespoon Butter
1 tablespoon Vanilla extract
1 teaspoon Almond extract*
6 Eggs
6 tablespoon Sugar
1 and 1/4 cups Milk
Pinch Salt
3⁄4 cup All-purpose flour
3 cups black cherries, pitted or unpitted*
Confectioners' sugar (optional)
*(Some people dont pit the cherries, the pits add a lot of almond flavor.I add the almond extract and pit the cherries instead)
Preheat oven to 425° and generously butter a 9" cast-iron skillet or baking dish. Combine vanilla extract, eggs, sugar, milk and salt. Whisk till blended, then add flour and blend until smooth, about 1 minute.
Pour batter into buttered skillet and evenly spread cherries over top. Bake for about 30 minutes or until a toothpick comes out clean from center. Let cool for 10 minutes before serving. Dust with confectioners' sugar or a spoon of whipped cream if desired.