She was born on a hardship morning when the cold settled in to the hills and valleys and the knuckles of the old ones.
In her rich and varied lifetime she would...
see her mother country of Latvia invaded by Hitler, be widowed in her 20s, go to work for the UN helping in the repatriation of her people who lost everything to the war.
Speak 5 languages. Become a mother. Settle in the US.
Run a successful pig farming operation (the feat she is most proud of, next to being a mother) while working full time at the University of Florida's Language Department. Upon retiring, she then proceeded to spend the next 14 years as a volunteer at a local botanical garden and with the "Meals on Wheels" program to help feed the "elderly" even though she herself was in her early 80s.
I could go on and on with stories from her exquisitely lived life. A life made up of equal parts of tragedies as painful as walking over jagged broken glass and triumphs as sweet as the nectar of the flowers she continues even now, to raise so tenderly year after year, but I think you get the picture.
Eda has the ability to simultaneously inspire me
and
make me feel I'm not getting enough done in my life!~
She adores laughing and telling jokes.
I love her.
I love her stories.
I love her stoicism.
I love her keen sense of humor and her fierce intelligence.
Once a month or so, Eda and I go for coffee and cookies at our local coffee shop. She of course, orders the most decadent latte on the menu and feigns indignance when asked if she wants low fat or whole milk. "Why whole of course" she replies "with whipped cream and caramel on top!" Then she laughs at the future thought of weight gained or arteries clogged. At 84 she's living in the moment.
That's Eda.
Living each day as large as she can.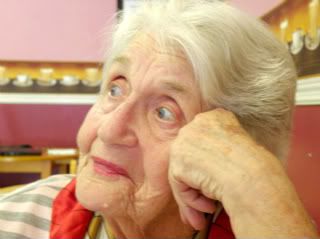 It delights Eda to watch the other
customers come and go and she manages to engage many of them in lively conversation since
she has never met a stranger.
Today was coffee day with Eda.
And I am the richer for it.