My current goal is to take a walk every afternoon, which I have yet to actually do - until today!
I can fit it in between scheduling hay pick up orders, feeding horses and getting the books ready for tax season right? And never mind the laundry that seems to have taken on a life of its own.
So on my first day of walking
what did I see?
Three French hens,
(they're not really French come to think of it, they are "Rhode Island Reds" and they are from Rhode Island, or so they say...)
One
Pit bull
NO turtle doves,
And a Mastiff in a pear tree!
(actually there was no pear tree either...)


but there was an absolutely spontaneous menagerie crossing conventional "species" lines all determined to enjoy a walk together.

To my amazement I saw this little crooked little conga line following me across the street and down into a hay field. I have never seen the chickens incline themselves to go this far out of their range. This was a big stray for the them. They never leave their "territory". At least they never had before today when evidently they had a brief council meeting and decided the dogs shouldn't be the only ones who get to walk with the humanoid.

One apparently even thought she should take the lead ahead of the mastiff, the usual pack leader on walks like these.
While the dog glares, the hen steps high and says "are you getting this with your camera?"



Amazed, I doubled back to grab my camera.

They of course doubled back with me..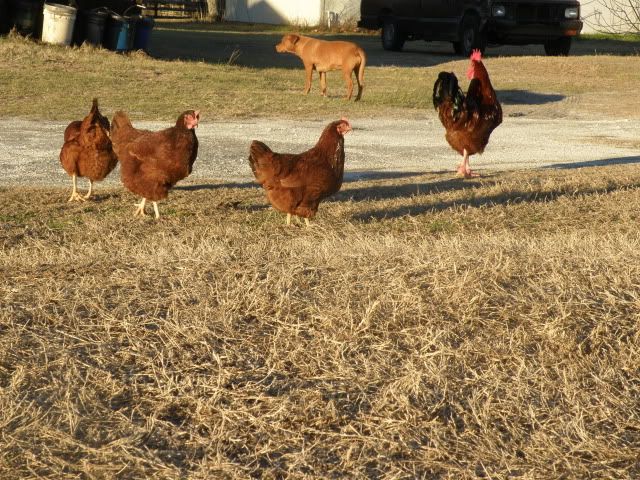 So trying again with camera in hand,

They duplicated their little parade like extras hired for the day on a movie set.


And that my friends, is how I got these pictures~